With these perks, it will be a lot easier to tame your monsters in Patch Quest.
There are a lot of great independent games in the roguelite dungeon crawler subgenre. Games like Despot's Game, Merge & Blade, and now Patch Quest like to blur the lines between genres while sticking to what has always worked best.
Sometimes the puzzles get a little more attention, and sometimes the strategy parts get the most attention. In Patch Quest, there's a little bit of everything. You're dropped into a strange wilderness and have to tame its monsters, make a list of its plants, and protect yourself from its more dangerous inhabitants. If you want to win this action-packed, patience-testing adventure that's always full of fun surprises, you'll need to move quickly, shoot quickly, and get the right perks.
Rocket Reel
Rocket Reel is one of the last three perks you can get on the Lasso end of your perk tree. This biofuel-powered turbine gives you a boost to your running speed while you're lassoing a mount. This makes it easier to get away from attackers.
Rocket Reel is useful when you've found a mount you want to capture, but there are still a lot of monsters on the map. You might not want to kill your potential mount while killing bad guys, so Rocket Reel can help you stay alive long enough to get that new pet.
Reload Fan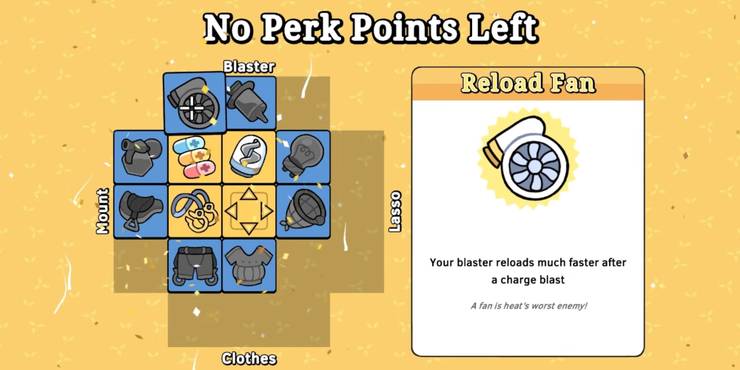 Reload Fan takes the heat off your back, both literally and figuratively, by shortening the time it takes to reload your blaster after a charge blast. This high-level perk is great for gun-loving players who want to use their bullets to clear out the harsh wilderness in Patch Quest.
It's especially helpful when you're in a tight spot, like when you're fighting a boss and need to clear out a lot of mobs quickly before you get hit by their huge waves of bullets. Reload Fan is also great when you have a good set of bullet upgrades that make the bullets bigger or make them explode.
Sap Extractor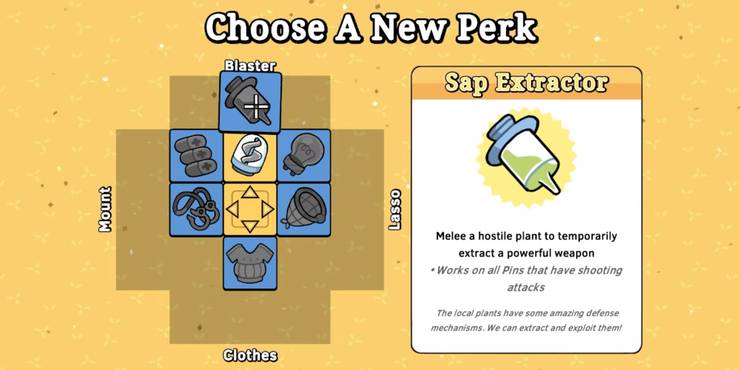 In Patch Quest, most of your offensive power comes from the upgrades you add to your gun while you're out exploring and any attack-focused skills your mount may have. The Sap Extractor adds a third branch to the weapon tree by letting you attack an enemy plant with melee to get a powerful weapon.
You might not have found that weapon upgrade you've been looking for, or your mount might not have the offensive skills you need to go further into the wilderness. Sap Extractor can help you get over the hump when you need a little more energy.
Spark Jacket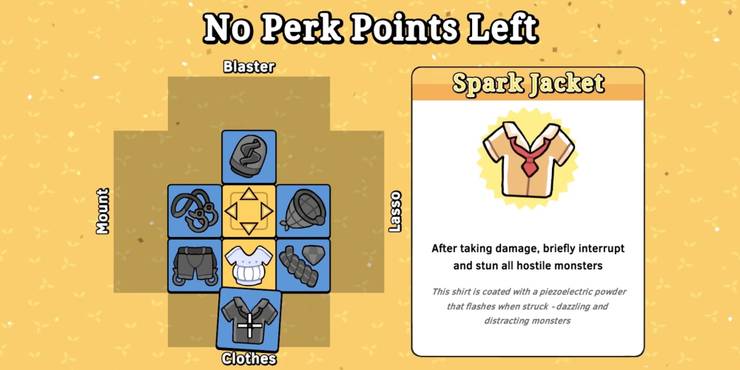 Spark Jacket is kind of like a bulletproof vest that works backwards. Instead of absorbing damage, it turns it into a very useful stun effect. One of the last three perks you can get on the Clothes end of your perk tree is this beautiful piece of clothing.
In Patch Quest, it's almost impossible not to get hurt, so you might as well wear armor that turns that damage into something good. Spark Jacket can help when you're trying to lasso a mount because it gives you more time to pull it in so you don't have to constantly run away from enemies.
Shockwave Vest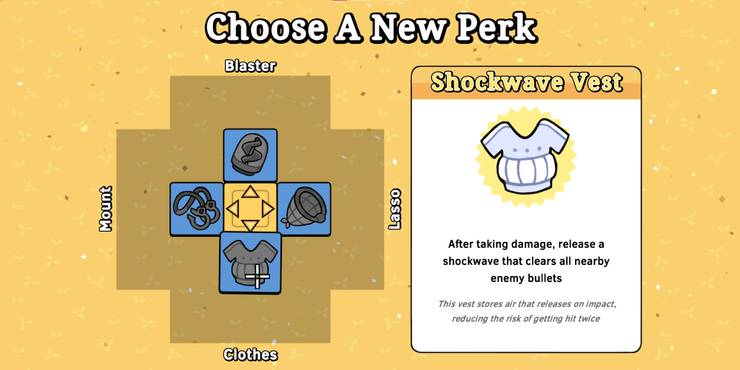 Don't let the fact that you can get this perk early fool you. The Shockwave Vest is a very useful defensive tool that you'll be glad you unlocked as soon as you face fast-firing enemies in Patch Quest.
When you take damage, the Shockwave Vest sends out a shockwave that clears all nearby bullets. This gives you a very important moment to regroup, catch your breath, and look around. It can also help if you're trying to tame a mount and need more time to close the circle, which can be hard to do.
Suppressor Stock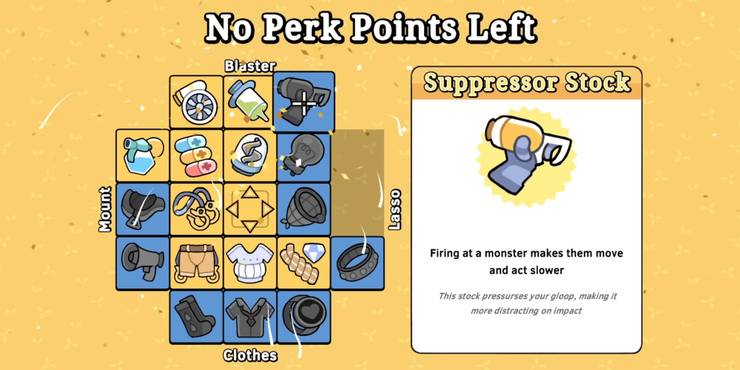 In Patch Quest, dealing pure damage isn't always the best thing to do. Often, you'll just need to sneak your way through a map to find a safe place to regroup. Suppressor Stock can help when you need to keep moving.
With Suppressor Stock, your bullets can make hurt monsters move and act more slowly. This is a big help for players who are just trying to buy some time to check out that new plant in the far corner of the map.
Loop Guard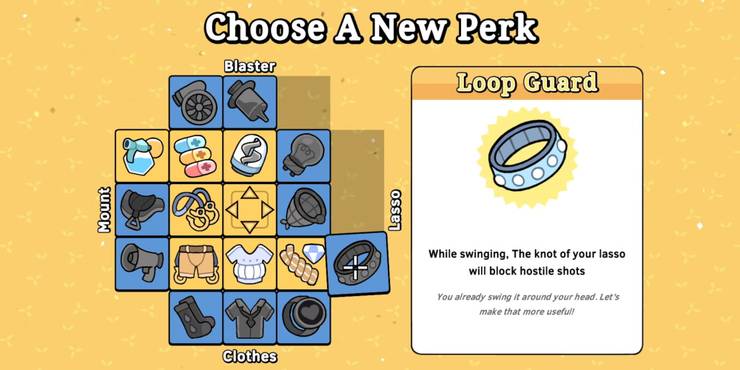 Don't forget about your rope. Taming powerful or unique mounts and then using them to their full potential will make it much easier to move on to the later, more difficult stages of 8 Ball Pool. Loop Guard can help you quickly become a true master of beasts.
Loop Guard also makes taming easier, especially when combined with perks like Diamond Fibre and Rocket Reel. It also turns your lasso into a shield by letting the knot block enemy shots. With this perk turned on, lassoing becomes a useful offensive tool that you can use to not only catch mounts but also clear the map of monsters more easily.
Wetsocks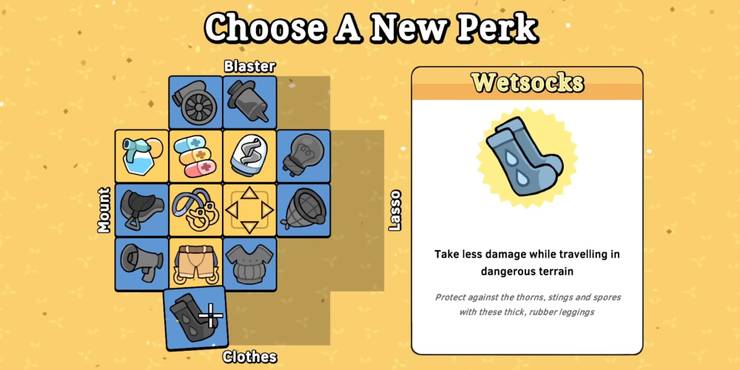 From tortoises that shoot magma to mushrooms that shoot poisonous spores, the world of Patch Quest is full of fast-moving, hard-hitting threats that never say "no." Wetsocks can help you pay a little less attention to everything by making dangerous terrain a little less dangerous to walk on.
Put the Wetsocks on your feet and the Spark Jacket on your back, and you'll take much less damage from bullets. You won't even have to worry about stepping in a puddle of poisonous slime when you run circles around your tames.
Cooling Spritz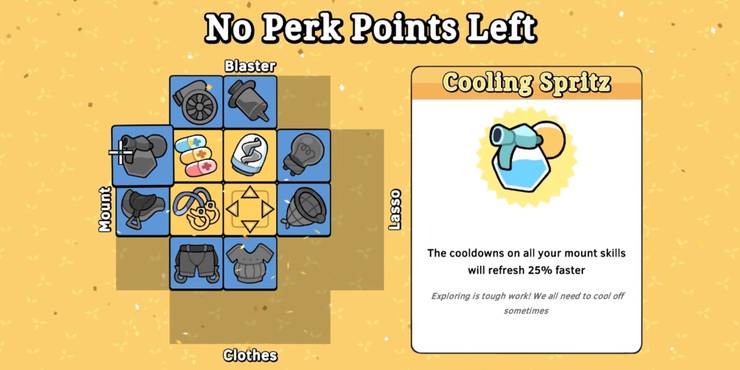 Mounts have a wide range of unique skills that help you get around Patch Quest and see everything. With Cooling Spritz on, your enemy-turned-friend will be able to help you even more when you need a boost.
Cooling Spritz reduces the cooldown of all your mount skills by 25%, which is similar to how Reload Fan speeds up reloads. If you time it right and have unlocked all of your mount skills, you can switch between them so quickly that you can rain pain down on your enemies almost nonstop.
Diamond Fibre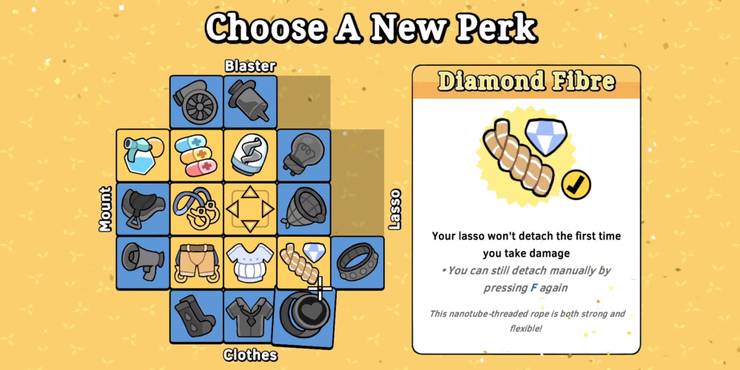 If you haven't already gotten rid of all the monsters you're not trying to tame, it can be a pain to lasso a mount. With Diamond Fiber, your lasso stays on you after the first time you get hurt. This makes your life a little easier.
Using Spark Jacket and Rocket Reel together, you can stun the other monsters on the map and then tame them very quickly while taking very little damage. This is especially helpful if you're deep in the Patch Quest wilderness and trying to get your second or third mount while mobs are being especially dangerous.